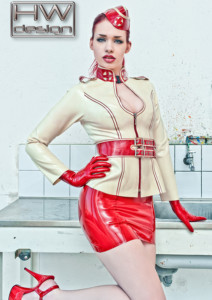 NURSE JACKE mit Gürtel aus 0,5mm Latex. Vorne mit Zip und Schnalle am Hals.
Gezeigtes Modell: Hauptfarbe – Weiss, Nebenfarbe – rot.
Hier zu sehen mit Mini Rock und Cap 01b.
Nurse Jacket with belt made of 0,5mm latex. Front zip.
Colour: white with red
Here shown with Mini Skirt and Cap 01b.
Model: Jasmine Suzanna
Photo: coJac