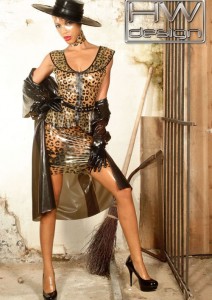 ROCK 03 – LEOPARDEN ROCK
Hochgeschnittener Pensil-Skirt, gefertigt aus exklusiv für HW-DESIGN hergestelltem Leoparden-Muster, welches direkt im Latex eingearbeitet ist und dadurch ein Verwischen bzw. Auswaschen unmöglich macht. Materialstärke: 0,4mm
CAP 09 Latex Hut VALERIE
Modischer Damenhut mit breiter Krempe und abnehmbarer Deko-Schleife, in vielen verschieden Farben erhältlich.
MASKE 24
Maske mit transparentem Gesichtsteil im Leoparden Design.
SKIRT 03 – LEOPARD SKIRT
This pencil-skirt is made of transparent latex with leopard print, created exclusively for HW-DESIGN. It makes a great foundation for any outfit especially when matched up with other leopard print pieces. The print is in the latex so it will not rub off.
CAP 09 Latex Hat VALERIE
Fashionable broad-brimmed latex hat VALERIE with removable, decorative coque, available in many different colours.
HOOD 24
Hood with transparent face and V-shaped forehead design in our Leopard print
Model: Dante Posh
Photo: Peter W. Czernich